As promised in the last 2021 Book Club podcast episode titled "Five-Element Energies Everywhere", here is a list of Samm's top 5 favorite fiction reads! We hope you enjoy!
#1 Divergent Series Set: Divergent, Insurgent, Allegiant, Four by Veronica Roth
Perfect for fans of the Hunger Games and Maze Runner series, Divergent and its sequels, Insurgent and Allegiant, are the gripping story of a dystopian world transformed by courage, self-sacrifice, and love. Fans of the Divergent movie will find the book packed with just as much emotional depth and exhilarating action as the film, all told in beautiful, rich language.
One choice can transform you. Beatrice Prior's society is divided into five factions–Candor (the honest), Abnegation (the selfless), Dauntless (the brave), Amity (the peaceful), and Erudite (the intelligent). Beatrice must choose between staying with her Abnegation family and transferring factions.
Her choice will shock her community and herself. But the newly christened Tris also has a secret, one she's determined to keep hidden, because in this world, what makes you different makes you dangerous.
#2 All We Ever Wanted by Emily Giffin
Nina Browning is living the good life after marrying into Nashville's elite. More recently, her husband made a fortune selling his tech business, and their adored son has been accepted to Princeton.
Yet sometimes the middle-class small-town girl in Nina wonders if she's strayed from the person she once was.
Tom Volpe is a single dad working multiple jobs while struggling to raise his headstrong daughter, Lyla. His road has been lonely, long, and hard, but he finally starts to relax after Lyla earns a scholarship to Windsor Academy, Nashville's most prestigious private school.
Amid so much wealth and privilege, Lyla doesn't always fit in–and her overprotective father doesn't help–but in most ways, she's a typical teenaged girl, happy and thriving.
Then, one photograph, snapped in a drunken moment at a party, changes everything. As the image spreads like wildfire, the Windsor community is instantly polarized, buzzing with controversy and assigning blame.
At the heart of the lies and scandal, Tom, Nina, and Lyla are forced together–all questioning their closest relationships, asking themselves who they really are, and searching for the courage to live a life of true meaning.
#3 The Vanishing Half by Britt Bennett
The Vignes twin sisters will always be identical. But after growing up together in a small, southern black community and running away at age sixteen, it's not just the shape of their daily lives that is different as adults, it's everything: their families, their communities, their racial identities. Many years later, one sister lives with her black daughter in the same southern town she once tried to escape. The other secretly passes for white, and her white husband knows nothing of her past. Still, even separated by so many miles and just as many lies, the fates of the twins remain intertwined. What will happen to the next generation, when their own daughters' storylines intersect?
Weaving together multiple strands and generations of this family, from the Deep South to California, from the 1950s to the 1990s, Brit Bennett produces a story that is at once a riveting, emotional family story and a brilliant exploration of the American history of passing. Looking well beyond issues of race, The Vanishing Half considers the lasting influence of the past as it shapes a person's decisions, desires, and expectations, and explores some of the multiple reasons and realms in which people sometimes feel pulled to live as something other than their origins.
#4 The Mothers by Britt Bennett
Set within a contemporary black community in Southern California, Brit Bennett's mesmerizing first novel is an emotionally perceptive story about community, love, and ambition. It begins with a secret.
All good secrets have a taste before you tell them, and if we'd taken a moment to swish this one around our mouths, we might have noticed the sourness of an unripe secret, plucked too soon, stolen and passed around before its season.
It is the last season of high school life for Nadia Turner, a rebellious, grief-stricken, seventeen-year-old beauty. Mourning her own mother's recent suicide, she takes up with the local pastor's son. Luke Sheppard is twenty-one, a former football star whose injury has reduced him to waiting tables at a diner. They are young; it's not serious. But the pregnancy that results from this teen romance–and the subsequent cover-up–will have an impact that goes far beyond their youth. As Nadia hides her secret from everyone, including Aubrey, her God-fearing best friend, the years move quickly. Soon, Nadia, Luke, and Aubrey are full-fledged adults and still living in debt to the choices they made that one seaside summer, caught in a love triangle they must carefully maneuver, and dogged by the constant, nagging question: What if they had chosen differently? The possibilities of the road not taken are a relentless haunt.
In entrancing, lyrical prose, The Mothers asks whether a what if can be more powerful than an experience itself. If, as time passes, we must always live in servitude to the decisions of our younger selves, to the communities that have parented us, and to the decisions we make that shape our lives forever.
#5 The Newcomer by Mary Kay Andrews
After she discovers her sister Tanya dead on the floor of her fashionable New York City townhouse, Letty Carnahan is certain she knows who did it: Tanya's ex; sleazy real estate entrepreneur Evan Wingfield. Even in the grip of grief and panic Letty heeds her late sister's warnings: "If anything bad happens to me–it's Evan. Promise me you'll take Maya and run. Promise me."
With a trunkful of emotional baggage…
So Letty grabs her sister's Mercedes and hits the road with her wailing four-year-old niece Maya. Letty is determined to out-run Evan and the law, but run to where? Tanya, a woman with a past shrouded in secrets, left behind a "go-bag" of cash and a big honking diamond ring–but only one clue: a faded magazine story about a sleepy mom-and-pop motel in a Florida beach town with the improbable name of Treasure Island. She sheds her old life and checks into an uncertain future at The Murmuring Surf Motel.
The No Vacancy sign is flashing & the sharks are circling…
And that's the good news. Because The Surf, as the regulars call it, is the winter home of a close-knit flock of retirees and snowbirds who regard this odd-duck newcomer with suspicion and down-right hostility. As Letty settles into the motel's former storage room, she tries to heal Maya's heartache and unravel the key to her sister's shady past, all while dodging the attention of the owner's dangerously attractive son Joe, who just happens to be a local police detective. Can Letty find romance as well as a room at the inn–or will Joe betray her secrets and put her behind bars? With danger closing in, it's a race to find the truth and right the wrongs of the past.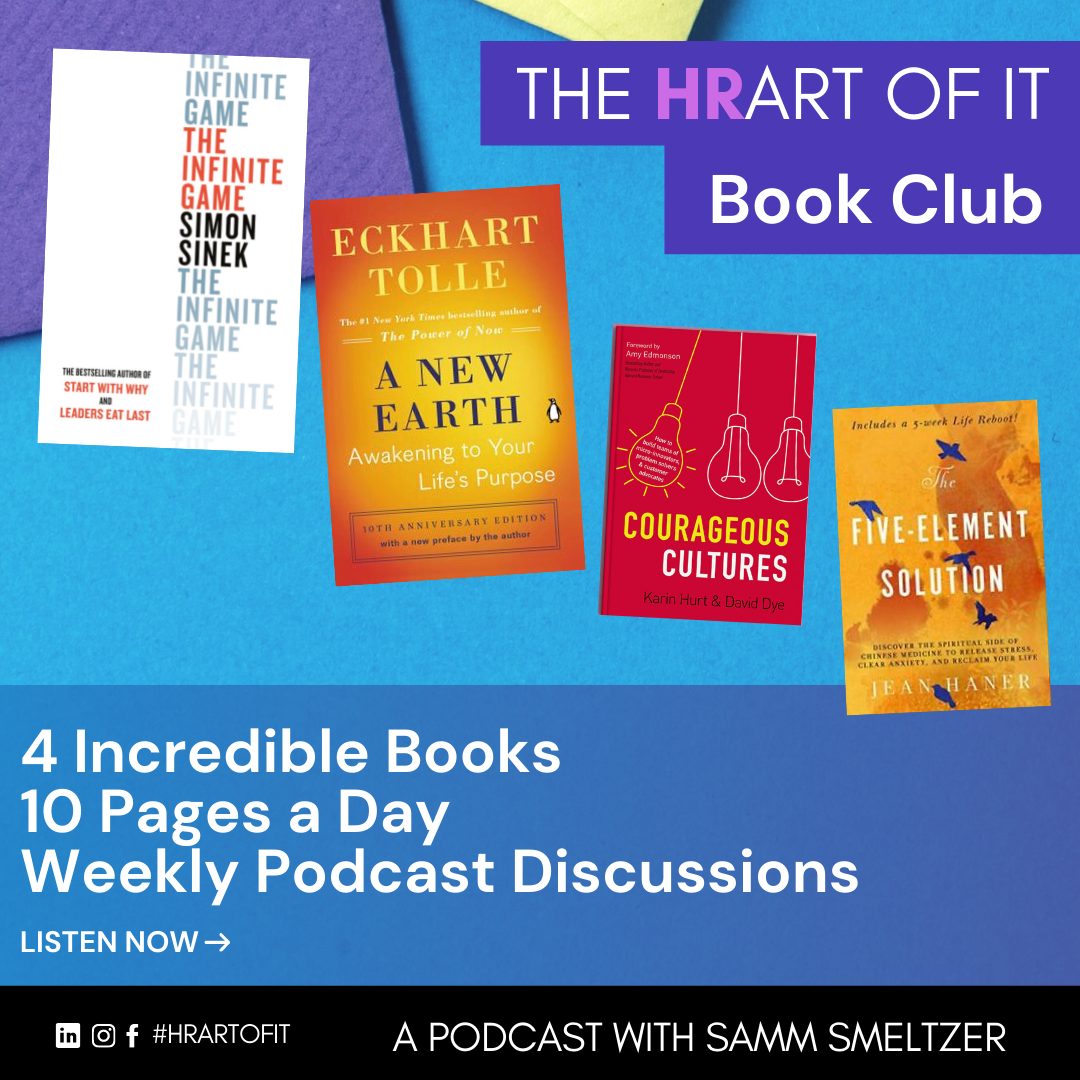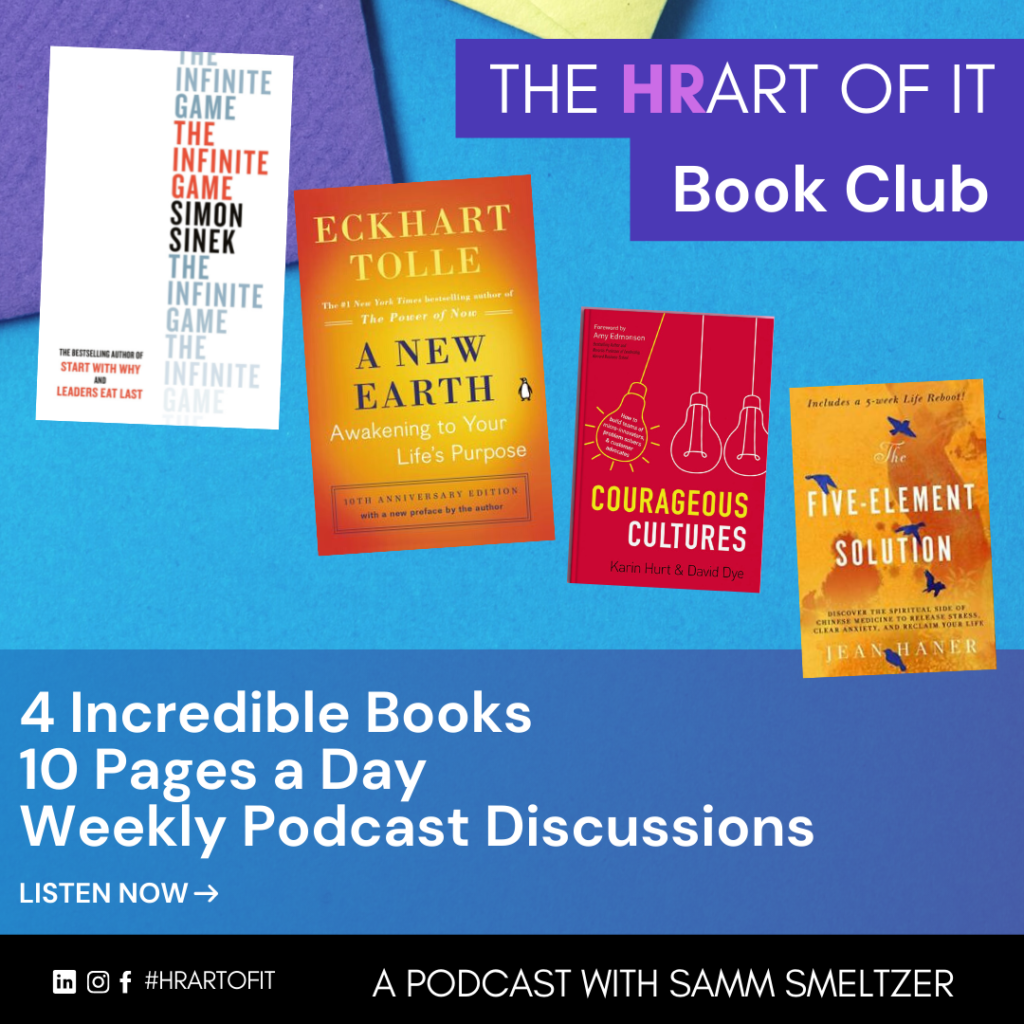 Find New Incredible Reads
We hope you enjoyed Samm's top 5 picks for fiction! If you enjoyed this, you'll probably also enjoy listening to and following along with The HRart of It Podcast Book Club! We invite a handful of Book Club members each year to read and discuss 4 incredible books on the podcast. Our commitment is just 10 pages a day and a weekly podcast episode where we discuss the last 70 pages. Find the link to the podcast, as well as a handful of other HRart Center reading resources, below!
Cover photo by Sincerely Media
---
---